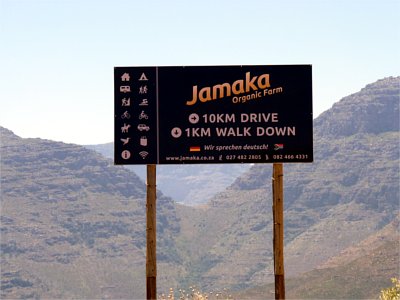 Jamaka Organic Farm and Resort belongs to the Nieuwoudt family since 1755. Jamaka is situated on the farm Grootkloof, currently the only certified organic farm in the Ceder mountains. Rooibos tea and various mango and citrus varieties constitute the primary crops of the farm.
The agricultural activities on the farm commenced in the 1950's with the establishment of a nursery and the planting of citrus trees. The organic status of the farm ensures that no pesticides, herbicides or fertilizers are used in the production of any crop.
The farm started adapting its original agriculture-only charter when the Nieuwoudt family decided to rent out three chalets in 1998. A year later they added the necessary facilities in order to establish camping grounds along the river. Through time Jamaka became a popular holiday and accommodation destination in the Cederberg area and subsequently more cottages were added while the camping grounds were expanded to increase their original capacity.
Jamaka currently features ten fully-equipped self-catering chalets with capacities ranging from two to sixteen people per house respectively. There are currently eighty-three campsites available for campers to choose from while new sites are being added from time to time.