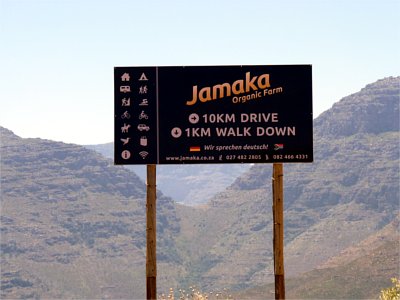 The land on which Jamaka Organic Farm and Resort is situated, belongs to the Nieuwoudt family since around the 1750's. The farm is also known as Grootkloof, and is certified organic. Rooibos tea and various mango and citrus varieties constitute the primary crops of the farm.
From the early 1800's and through the 1900's several families were living along the Rondegats River on the farm and paid one pound per year in the early 1900's as rental. They were living from vegetables and fruit planted in small gardens along the river and the water was taken from the river by damming it and then diverted with culverts to their gardens for irrigation. They were also keeping livestock like cattle, sheep, poultry and goats and many remnants of buildings and foundations of dwellings along the river beds are testimony thereof.
The commercial agricultural activities on the farm commenced in the 1950's with the establishment of a citrus nursery and the planting of citrus trees. The organic status of the farm ensures that no pesticides, herbicides or fertilizers are used in the production of any crop.
The farm started adapting its original agriculture-only charter in 1994 when the Nieuwoudt family decided to start with the development of a campsite and the renovation of existing structures to serve as self-catering chalets. In 1997 it was decided to concentrate on the development of an agritourism resort for visitors and a master plan was developed.
Through time Jamaka became a popular holiday and accommodation destination in the Cederberg area.
Jamaka currently features ten fully-equipped self-catering chalets with capacities ranging from two to sixteen people per house respectively. There are currently eighty-five campsites available for campers to choose from while new sites are being added from time to time.